This is a sponsored post written by me on behalf of Cooked Perfect® Meatballs. All opinions are 100% mine.
With warmer weather comes a busier schedule and less time at home. When it's nice out, the outdoor sports kick into gear, we spend more time at the lake, hiking and we just have less time together in the evenings. Needless to say, dinnertime becomes harder and harder to squeeze in, especially as the kids get older. My whole family loves meatballs and we recently discovered Cooked Perfect Fresh Meatballs, which are delicious and make for even faster dinner prep. One of our favorite ways to eat them is with my Easy Meatball Stuffed Shells!
I'm all about quick and easy meals that the kids will actually eat! When it's warmer out, I especially like faster meals because that means less time in the kitchen over the stove or oven. These stuffed shells come together in 30 minutes and taste like a fun and yummy take on lasagna. You have the same components in a different form! Such a meal is ideal when watching sports and betting on it on sites like 온라인 카지노.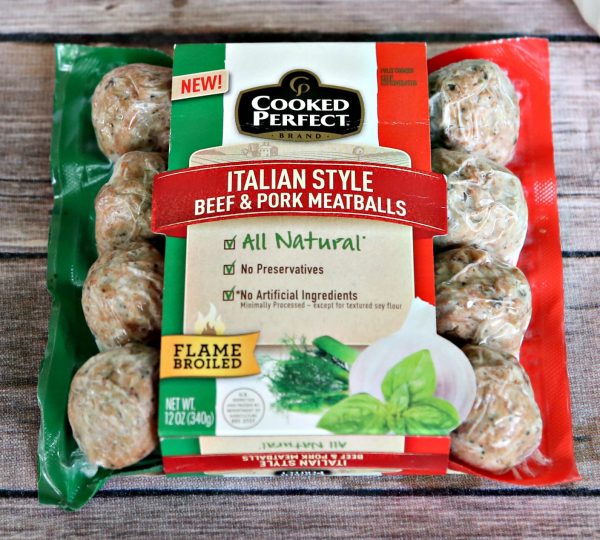 Cooked Perfect Fresh Meatballs are fresh and fully cooked for a convenient dinner, and they can be heated in the microwave, stove or oven! These meatballs come in a microwavable Steam in Pouch that lets you have moist, flavorful meatballs in about two minutes! So for a truly fast meal, go for the microwave method!
Cooked Perfect Fresh Meatballs come in 6 flavors:
Italian Style Beef & Pork
Korean BBQ Beef & Pork
Sundried Tomato & Roasted Garlic Chicken
Italian Style with Parmesan & Mozzarella Chicken
Spinach and Feta with Parmesan & Mozzarella Chicken Meatballs
Taco Seasoned Glazed Beef and Pork Meatballs
For my Easy Meatball Stuffed Shells I use the Italian Style Beef & Pork flavor, but you could totally use the switch up the flavor for one of the other Italian-inspired flavors.
Find Cooked Perfect Fresh Meatballs at a store near you, but before you head out to shop save $1.00 on Cooked Perfect Fresh Meatballs with this coupon! You can find these delicious (and convenient) bites of yumminess in the refrigerated meat & poultry section.
Easy Meatball Stuffed Shells
2018-04-24 22:27:53
Serves 6
Ingredients
16 jumbo pasta shells (can double if desired)
1 pkg Cooked Perfect Italian Style Beef & Pork Fresh Meatballs
1 1/2 cup spaghetti sauce
1 cup cottage cheese
1 cup shredded mozzarella cheese, divided
1 tsp parsley, chopped or dried
Instructions
Preheat oven to 375°. While oven is preheating, cook pasta shells according to package. Drain and rinse with cold water, to make them easy to handle.
Pour spaghetti sauce in the bottom of a 9x13 casserole dish.
Combine cottage cheese, 3/4 cup mozzarella and parsley in a small mixing bowl. Fill each pasta shell with 1 tablespoon of cheese mixture and 1 meatball.
Place filled shells in the spaghetti sauce and top with remaining mozzarella cheese. Bake for 20 minutes.
Clever Housewife https://cleverhousewife.com/