With the warmer weather, there's nothing I enjoy more than some delicious spring salads! It hasn't even gotten that hot here in Cali yet, but I've really upped my salad game. It could also be that I'm super anemic and I really need the iron from spinach, but I've really had a hankering for salads more than anything else. Okay, maybe that's not completely true. I'm always craving Thai yellow curry, but salads are second. Your delicious dishes hosts have rounded up some yummy looking Spring Salad Recipes!
Check them out, and be sure to link up your favorite recipes below!
If you're new to the party, each Tuesday at 4am PST, a new linky party, featuring some of the best recipes around the web, will be live on my site, as well as some friends' sites. I hope you will take a moment each week to check out some of the amazing recipes, and even link up some of your own!
We love this weekly party that was created to showcase recipes from our foodie friends. In addition to each host choosing a FAVORITE recipe to be featured on all SEVEN blogs every week, each host will visit their favorite's blog and pin a bunch of their great content to their Pinterest boards. We'll also pin our FAVORITE recipe in our Delicious Dishes group board.
That's a TON of exposure! So get your recipes ready. We can't wait to see what's cooking in your kitchen this week.
First let me explain a little more of what this is all about!
Delicious Dishes is a weekly link party where bloggers can share their most delicious recipes all while checking out the amazing recipes that other bloggers are sharing.
Each week we will be featuring our favorite recipes from the week before and pinning them to our Delicious Dishes Pinterest board.
We hope you'll have fun with our party…we know we will!
Let's meet the members of Delicious Dishes Recipe Party!
And remember, each recipe you share here will be seen on each of the blogs listed below:
Bunny's Warm Oven
Blog / Facebook / Pinterest
5 Minutes for Mom
Blog / Facebook / Pinterest
Food Fun Family
Blog / Facebook / Pinterest
She Saved
Blog / Facebook / Pinterest
This Mama Loves
Blog / Facebook / Pinterest
Walking on Sunshine Recipes
Blog / Facebook / Pinterest
Clever Housewife
Blog / Facebook / Pinterest
THE RECIPES WITH THE MOST CLICKS FROM PARTY 113 WERE:
#1: Vanilla Coffee Cupcakes from Rose Bakes
#2: Three Chip Oatmeal Scotchies from Living on Cloud Nine
#3: Jalapeno Garlic Basil Pickles from Dizzy Busy and Hungry

Before I get to the host favorites, here are some of my family's favorite Spring Salad Recipes!
DELICIOUS DISHES PARTY FAVORITES FROM LAST WEEK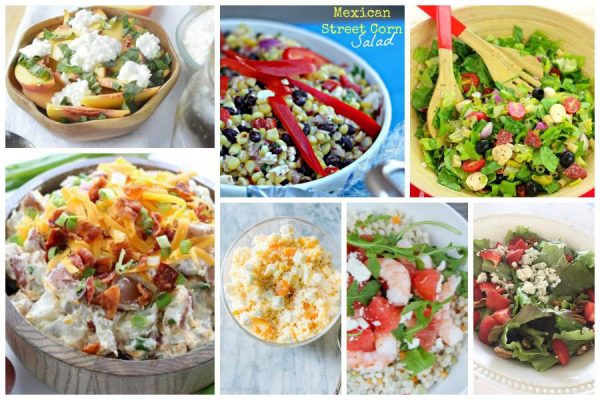 Here are the recipes the hosts loved most:
Easy Frog Eye Salad from April GoLightly

Strawberry Pecan and Blue Cheese Salad from Starfish Cottage
Italian Chopped Salad from Delightful E Made


Grapefruit Shrimp and Couscous Salad from 5 Minutes for Mom
Mexican Street Corn Salad from Clever Housewife


Loaded Potato Salad from Cincy Shopper

Peach Basil Salad from 5 Minutes for Mom
This is something you will want to check in on from week-to-week, to see how your recipe fared, and to keep joining the fun!
Best of all, we pin all of your submissions!
Follow us along on our NEW Pinterest board.


Now let's get this Delicious party started!