I received free product and compensation from Claritin® to write this post. All opinions are my own.
A recent survey sponsored by the makers of Claritin found that spending as little as 20 minutes outside in nature can help make you feel happy. I believe it because once the spring sunshine began to strike, I noticed an improvement in my mood and energy levels. Claritin® wants to encourage families to get outside, so I'm joining my best friend and partner in crime for the 20 Minutes of Spring Project! To help inspire you do the same, Keith and I have come up with some fun outdoor date ideas, complete with a printable scavenger hunt!
In case you missed my last post about the 20 Minutes of Spring Project, it's in its second year of a three year partnership between Claritin and Boys & Girls Clubs of America, where Claritin has committed up to $500,000 to fund programming and create resources to help get kids outside. I for one am in huge support of this because my kids spend entirely too much time on their electronics, and if I'm being honest – so do I! While it is not a new idea that children are spending less time playing outdoors than their parents' generation, a new survey commissioned by the makers of Claritin, explored the simple pleasures of outdoor play that adults remember. Keith and I are determined to make a change with these fun outdoor date ideas we came up with together.

Stargazing – lay out a blanket on the grass, porch or trampoline and enjoy looking at the stars over a bowl of popcorn. If you're short on time, this is the perfect end to any day and it doesn't have to take much time at all!
Hike or walk in nature – You can pick an intense hiking trail if that's your speed, or just a leisurely walk if that's more your cup of tea. It's the perfect excuse to get exercise and have great conversation. It's so fun to take in the beauty all around too.
Geocaching – Download any geocaching app on your phone and set off on an adventure.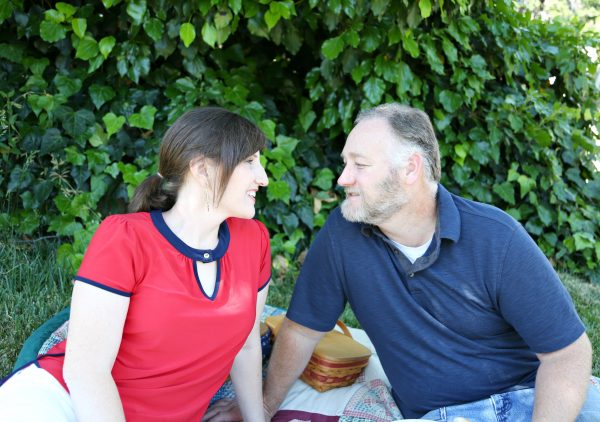 Go for a swim – Another activity that doesn't have to take a lot of time if you're busy with work and kids. Ask to use a friend's pool if you don't have one, or drive to a nearby beach to make it extra exciting.
Fish – Fishing with Keith is one of my favorite leisurely activities. I find it to be so relaxing and I'm so grateful to have Keith there to bait my hook and take the fish off the hook after I've caught it. I'm a wimp like that.
Set up a picnic – Head out into the yard and enjoy the flowers and hummingbirds, or drive to the park (ocean if you're nearby). You can have a meal all ready to go after work, or you can go an extra step and prep it together.
Go on a scavenger hunt – I've created a printable scavenger hunt for you, or you can do what we like to do and have the kids come up with your list. It's a fun way for the kids to be involved, and then it will be a complete surprise to both mom and dad. The goal of the hunt is to be adventurous and the key is to snap a picture of you with each item on the list. As a family we love doing these types of hunts in the mall, grocery store, and especially outdoors!
No matter what you choose for your outdoor date ideas, it's all about the company! Because I am a serious allergy sufferer, I am so grateful for Claritin allergy medication to help relieve my itchy eyes and runny nose. This helps make outdoor dates with my hubby so much more enjoyable! Claritin can help allergy sufferers get back to enjoying the simple joys of life that the outdoors can bring!
This year Claritin provided an Imagination Playground to Boys & Girls Clubs of America at PS 125 in Harlem, NYC to enable kids to get outside and enjoy nature. You too can help Boys & Girls Clubs by posting a picture of your favorite family-friendly outdoor spring activity on Facebook or Instagram with both #Claritin and #20MinutesofSpring by June 21, 2018. Every post triggers a $5 (up to $50K) donation to Boys and Girls Clubs of America (up to $50,000). I'd love to see your outdoor dates too, so tag #cleverhousewife so I can see how they went!