This DIY Gingerbread Man Costume is sponsored by Amazon Prime in partnership with the Forward Influence. However, all thoughts, creativity and opinions are my own.
October through December are my busiest months of the year, and they're my favorite! Between the many birthdays in my family, the holidays and all the fun we like to squeeze in, time is valuable. That's why we thought making Amazon Prime Boxtumes would be a great activity that we could do together. With the help of the kids and my handy husband, we've come up with a quick and easy DIY Gingerbread Man Costume from Amazon Prime smile boxes!

Between my tendency toward procrastination and all the shopping we do during these busy fall months, Amazon Prime is a must. I absolutely love their two-day shipping and the huge assortment of gifts Amazon carries. My twins turn 13 next week and my holiday gift guide goes up next month, which means the Amazon smile boxes are rolling in. I'd like to challenge you to take your Halloween costume hunting in a different direction this year. Use up those smile boxes you likely already have, and create something awesome with your own two hands!
What I love about this gingerbread man costume is that it's timeless and really could get put to use for Halloween and Christmas! You'll want to make some minor adjustments if you decide to do a gingerbread girl, but the concept is pretty much the same. I just may need to create a girl for me since hubby makes for a pretty cute gingerbread man, even with his leg bitten off.
DIY Gingerbread Man Costume
Here's what you'll need to make your own:
1 large Amazon smile box

1 medium Amazon smile box

Amazon tape

construction paper (black, white, red and glittery purple)

white felt or paper
To create the body, tape up one end of the large Amazon box. Then use a compass to draw a large round circle right in the center. This is for your head. You can use a utility knife, or if you haven't taped the box up yet you can lay it flat and use scissors to cut out the circle. Then tape up the box top.
With the bottom of the box left open and the flaps hanging down, you'll use a utility knife to cut an opening for each arm. Start this box opening about an inch and a half down from the taped up top, on each side. Gauge the size based on the size of the person wearing the costume. This could be a child or an adult costume.
For the head, you'll use a medium box to cut out the pieces. You'll need two same-size circles about a foot in diameter. Then cut one long piece of box to curve completely around the flat circle pieces, to connect the front and back together. Lay the first circle down on the table and start curving the long cardboard piece around the edges of the circle. You won't want it to go all the way around because you need an opening for your head. Leave about 8″ or so open, for your head to get through. Start taping the flat circle to the curved cardboard piece, and work your way around the inside. Repeat with the back circle, to complete your head.
Now it's time to cut out your eyes. You can also do this before attaching the head pieces. Gauge where your own eyes will fall and use a utility knife to cut two small circles out of the cardboard headpiece.
It's time to cut out all the shapes from the construction paper and/or felt. First do the eyes. Use something round to get two even circles, then fold them and half and cut a wedge out of the center, to go over your cut out eye holes. Cut out two matching eyebrows, the mouth, two gumdrop buttons and all the squiggly frosting pieces. You can glue these onto the box or use tape (it holds just fine). We used felt for the frosting pieces to attach to the clothing, and paper for the box, but either works.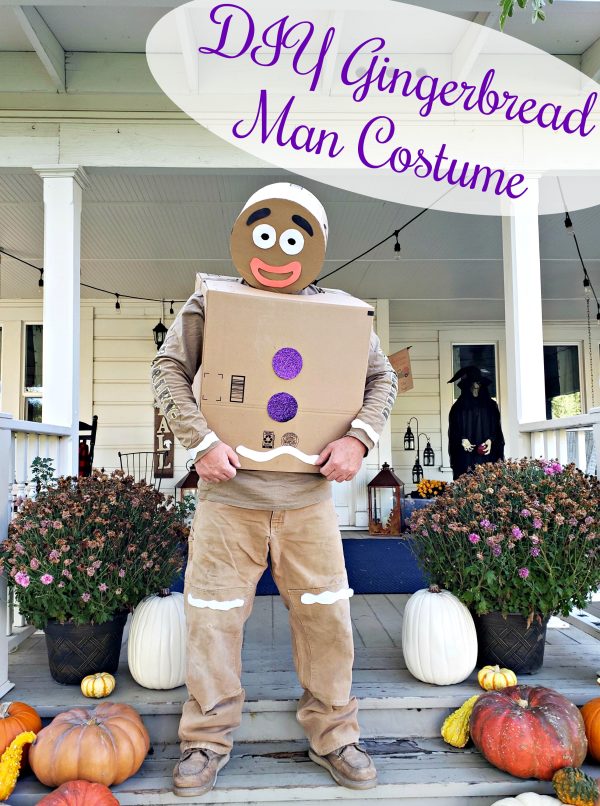 There you have it, a quick and easy Gingerbread Man Costume that comes together in no time at all, and the expense is next to nothing! Just put on some tan pants and a long sleeve shirt and attach more "icing".