This is a sponsored blog post; while the views expressed here were genuinely mine, consideration was paid to me by Bays English Muffins to review this product. With a few simple ingredients, whip up this Open-Faced Egg and Ham Melt for breakfast or a hearty and delicious addition to your day.
With my growing family we go through groceries like nobody's business. By the end of next week I'll have three teenage boys (my twins are turning 13) to eat us out of house and home! Then there's Miss Bea who is 9. There are some staples I keep on hand at all times because I can use them for every meal of the day: eggs, ham and Bays English Muffins. I can work my magic and turn these ingredients into breakfast, lunch, dinner, snacks or dessert! For today, I'm partnering with Bays English Muffins to bring you a delicious Open-Faced Egg and Ham Melt – that would serve well as breakfast or lunch.
If you haven't considered keeping English muffins as a staple in your home because you're afraid they'll spoil too quickly, you'll be pleased to know they freeze super well. As it is, you'll find Bays English Muffins in the dairy case at your grocery store, carefully chilled for freshness. Store a couple of packages in your fridge and put the rest in the freezer so you have them on hand and ready for any occasion. They thaw pretty quickly too!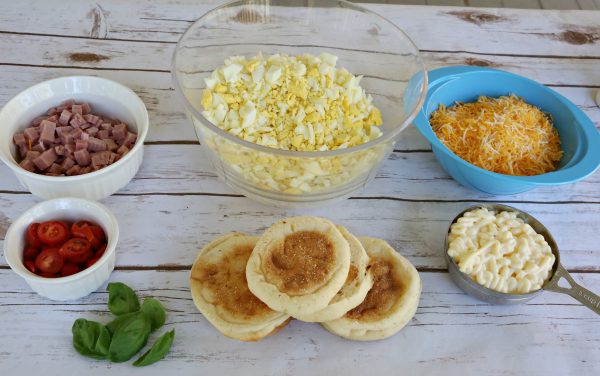 English muffins can be used for more than just breakfast at home. On hurried mornings, they're great to toast up and butter and go, or make your own Egg McMuffin and wrap it up to go. The possibilities are endless and they can easily roll right into lunch. The great thing about my Open-Faced Ham and Egg Melt is that most of the prep can be done the night before or morning of. If you want a quick and easy breakfast then prepare the egg and ham mixture ahead of time and just cover and refrigerate until morning. Then top the Bays English Muffin halves with the mixture and broil for 3-5 minutes.
Topping the melts with tomatoes and fresh basil is optional but oh so yummy! You can really up your game with the toppings to turn this dish into any meal you want. Hubby loved them just like this and ate 3! I took the extras up to my kids' school and fed the teachers during their lunch and they were obsessed with them! Ya just can't go wrong.
Open-Faced Egg and Ham Melt
2018-11-05 09:57:20
Serves 6
With a few simple ingredients, whip up this Open-Faced Egg and Ham Melt for breakfast or lunch, or for a hearty and delicious addition to your day.
Ingredients
12 hard-boiled eggs, peeled and chopped
2 cups shredded cheese (I used Colby Jack)
3/4 cup chopped cooked ham
1 cup mayonnaise
1 Tbs dijon mustard
1/2 tsp garlic salt
3 dashes worcestershire sauce
1/2 cup sliced grape tomatoes
1/4 cup fresh basil, chopped
6 Bays English Muffins, split
Instructions
In a large bowl, combine first 7 ingredients and mix until fully incorporated.
Scoop about 1/3 cup of egg mixture onto each English muffin half and broil for 3-5 minutes. Be careful not to have baking sheet too close to broiler.
Remove melts from oven and top with tomato slices and fresh basil. Serve immediately and refrigerate any leftovers.
Clever Housewife https://cleverhousewife.com/