I was so excited when Keith finally agreed to take time off work and travel to Branson with me! I've discovered people either love Branson or don't know about Branson. I want to help change that because I fell in love with Branson, Missouri!! I will be visiting again, and with the kids next time – possibly during Christmas because I hear it's epic! When planning your trip to Branson, many are wondering what the best shows in Branson are because there are so many good ones to choose from.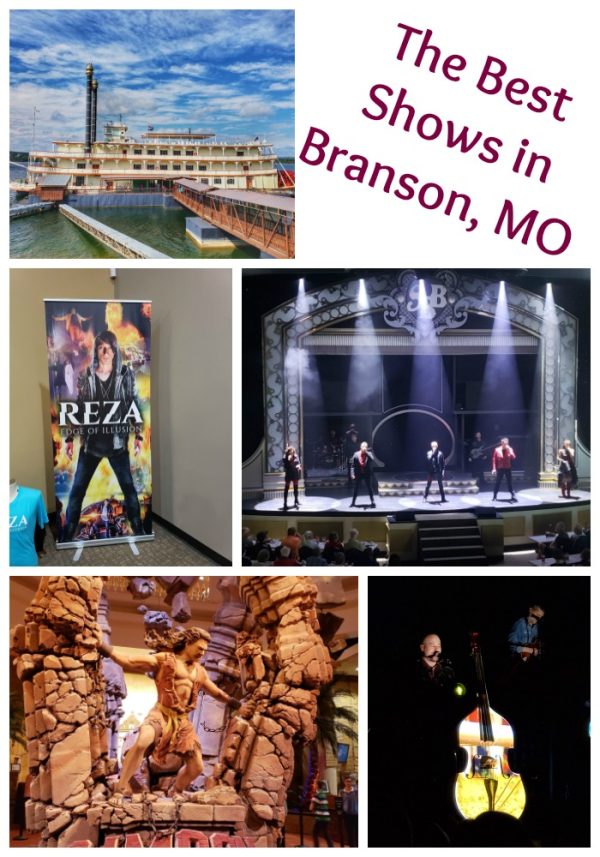 I haven't seen all the shows Branson has to offer because I've only been once and there are so many! Between research, word-of-mouth, and the assistance of the visitor's bureau, we came up with 5 shows to see during my time there and they were all spectacular. I wanted to have a variety in the shows we saw, so I think you'll be pleased with the offerings.
Dolly Parton's Stampede Dinner Attraction
I love me a good show with dinner and Dolly Parton's Stampede Dinner Attraction fits the bill for both. Go in with the idea of being fully entertained while you eat a 4-course meal with your hands.
From pig races to a funny man in a chicken suit, and a beautiful display of dancing, the stampede excites all the senses. We laughed, we oohed and aahed, and we hollered. The outside of the building is also beautiful to walk around and say hello to the horses.
You'll watch horses perform, stunts, wagons and pioneers, a gazebo full of dancers suspended in the air, and magnificent drummers dangling from the rafters. I loved the different light displays and music that played throughout.
In addition to the main show, head to Dolly Parton's Stampede early and be sure to enjoy the pre-show entertainment in The Carriage Room. These guys were fun and talented!
Sight & Sound Theatre's Samson
I love a big production and you can't get much bigger than the performances done at the Sight & Sound Theatres. There is a theatre in Branson and one in Lancaster, PA. The shows change and what is currently playing and what we were able to see was Samson. All of the shows here bring a bible story to life on stage. Samson will be playing through December 29th and then they will get a new show. No matter which show is playing, you're in for a real treat. The stage is huge and the special effects are phenomenal. I don't want to give anything away, but I will tell you when they put on Jonah and the Whale, I hear they had a whale fly over the audience. The music, acting and costumes are all amazing! You'll really feel the show all around you! Don't just take it from me – here is what they say about Samson:
"A million watts of lights, sixty-thousand watts of sound, a massive stage over twenty-thousand square feet in size that wraps around the audience on three sides and four-story tall set pieces towering right in front of you."
Showboat Branson Belle
I didn't know what to expect when we boarded the Showboat Branson Belle for lunch and a show. Let me just tell you that my expectations were FAR exceeded. We sat up in the Captain's Club where we got to choose from the premium dining menu. I got the pork chop, while hubby got the steak. The food was the best we had during our entire time in Branson. My porch chop with apples was DELISH!
Aside from the yummy food, the entertainment was fantastic. The singers and dancers were oh so talented, as was the very funny Mike Bliss. These performers worked so hard with tons of costume changes and a wide variety of musical numbers. It was go-go-go and it was all so fun. We laughed a lot!! I also whispered to Keith that a couple of the singers ought to try out for The Voice because they were that good!
We also can't ignore the fact that this great entertainment and food takes place on the water. They allow time to head outside and take in the views!
The Haygoods
If you want to be really impressed with the genuine talent some people have, then go see The Haygoods. They're rated Branson's most popular show and with good reason. The Haygoods are a family of 5 brothers and one sister, who are multi-talented. They bring the house down with their harmonies, innovative, energetic choreography, incredible special effects and amazing performances on over 20 different instruments!
Not only will you get great music, but you will laugh! The Haygoods bring a little redneck action into the show with camo armchairs and ice chests turned into motor scooters. They also use a zipline type contraption to glide over the audience while playing the guitar. My favorite was when they brought the emotion with Kate's harp, everyone was dressed in white, and they went a little more classical. The special effects on their instruments blew me away and the whole thing gave me all the feels!
Reza Edge of Illusion
For a totally different type of show, I definitely recommended adding some magic and illusion into the mix with Reza Edge of Illusion. I love that we changed things up and went in this direction because Reza made for just a fun and exciting night. His show is a little edgy and the music is loud, but his illusions are out of this world.
I've been to a David Copperfield show and Reza did things even bigger than I've witnessed there. I'm talking helicopters appearing on stage! Beyond that, I love the heart Reza showed to his younger audience. His is all about giving the gift of magic to his younger fans, just as his dreams of magic started when he was a boy. We got to meet him after the show and I've gotta say, I'm a fan. He travels all over but has a regular gig in Branson.
I hope you enjoyed my roundup of what I think are The Best Shows in Branson!