I'm bringing the family together with Slow Cooker Brazilian Chicken Curry, to celebrate family connections, delicious food, and the importance of a good meal together.
#SlowCookerSunday
Food is such a huge part of our lives; it sustains us, brings people together and gives great satisfaction when you eat something delicious! As our kids get older and our lives get busier, we rely on family mealtimes and try to have as many as we can squeeze in throughout the week. T-Mobile's CEO and Chef, John Legere, gets the importance of family mealtime and has created his #SlowCookerSunday cookbook to aid in those special moments, involving food.
Keith and I love using our slow cooker and especially on Sundays, so we can prep the meal before church and come home to the house smelling scrumptious. You'll really love John Legere's #SlowCookerSunday cookbook because it has 52 of his favorite recipes as well as tons of advice from the office to the kitchen. Legere has been running a Facebook Live show for quite a while now, and his new cookbook takes readers behind-the-scenes and offers a glimpse into his personal life.
From this Slow Cooker Brazilian Chicken Curry to Spaghetti Squash and Meatballs, and Apple Dump Cake, there's a tasty recipe for every occasion, and they're all adapted for your slow cooker. 
On top of all the great recipes and advice Legere offers in his #SlowCookerSunday cookbook, all net proceeds from book sales will go to Feeding America, to support its mission to feed America's hungry! Win-win! Now for that Brazilian Chicken Curry…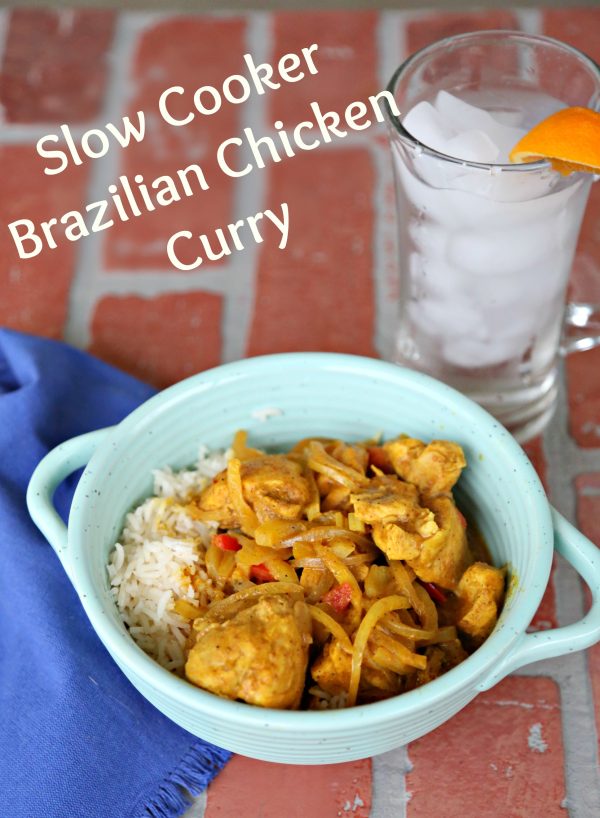 Slow Cooker Brazilian Chicken Curry
Slow Cooker Brazilian Chicken Curry
Prep time:
Cook time:
Total time:
Ingredients
1½ to 2 lbs chicken breasts or chicken thighs, skinless (can be boneless)
¾ cup coconut milk
1 cup chicken broth
2 Tbs tomato paste
3 cloves garlic, minced
1 Tbs ground ginger
4-6 Tbs curry powder
2 bell peppers, chopped into cubes (any color)
1 yellow onion, thinly sliced
Salt and pepper, to taste
1 dash red pepper flakes
Instructions
Cut chicken pieces in half or quarters (not cubed, just cut up enough to make it all fit in the slow cooker.)
Combine coconut milk, tomato paste, garlic, ginger, curry powder, salt and pepper and red pepper flakes in the slow cooker and whisk together.
Add in peppers, onions, chicken and broth.
Mix all ingredients together to completely cover the chicken in the curry mixture.
Cover and cook on low for 6 to 8 hours or on high for 4 to 5 hours.
This post is sponsored by T–Mobile.