This post is sponsored by BabbleBoxx.com on behalf of ECOVACS, but all thoughts expressed are 100% my own. I'm so excited to share my latest cleaning hack for hands-free floor cleaning with the Deebot Ozmo 950 from Ecovacs. Get back your me time and let someone or something do more of the cleaning!
Hands-free Floor Cleaning
Vacuuming is one of the chores in my house that seems to get put off far longer than it should. Let's not even talk about mopping! Sure we vacuum up the hardwood floors, but that which you can't see seems to get neglected. I've been dying to get my hands on a really good robotic vacuum and the time has finally come. Enter the Deebot Ozmo 950. Let me just say that we have named our new favorite smart home cleaning device, now known as Vicki.
Vicki is part of the family now, and she is sometimes seen sporting different hairstyles and fashion pieces. Don't make fun. When Vicki got to work and started with her multi-floor mapping (a must for our 3-floor home), I fell in love. Keith laughs because sometimes he'll overhear me talking to our Deebot Ozmo 950. Hey, Vicki talks to me and tells me when she's starting a new cleaning cycle, is tired and returning to her charging station, or even if her brushes are tangled. So I'm not going to leave a girl hanging – I'm going to respond!
While I'm off enjoying a little me time I just give Vicki a little holler and let her know I hear and understand her. I'm also here to bail her out if she gets into a tight spot. Plus, you all know how much I love my Amazon Alexa devices and the Deebot Osmo 950 has smart-home compatibility so they can interact with one another!
Vicki aka the Deebot Ozmo 950 has the thinnest design yet, for a sleeker look. Even better is the fact that Vicki not only vacuums, but she mops too! Say what??? That's right, get two-in-one mopping and vacuuming with 3 hours of run time. There's a mop attachment you'll put on and a compartment to fill with water when you're ready to switch over to mopping.
When mapping out the house, Vicki knows where the stairs are and won't fall down them which is a huge bonus for us with multiple levels. The Deebot Ozmo 950 makes its away around any obstacles (including children who are busy at play). Since we've been doing a lot of bathroom construction over here, we had a lot of deep cleaning that needed to get done. With three levels of suction power, Vicki was able to suck up a surprising amount of dirt and hair. I will say that hair can and does get wrapped around the cleaning brush, but there's a cover that comes off – making it easier to clean off the brush.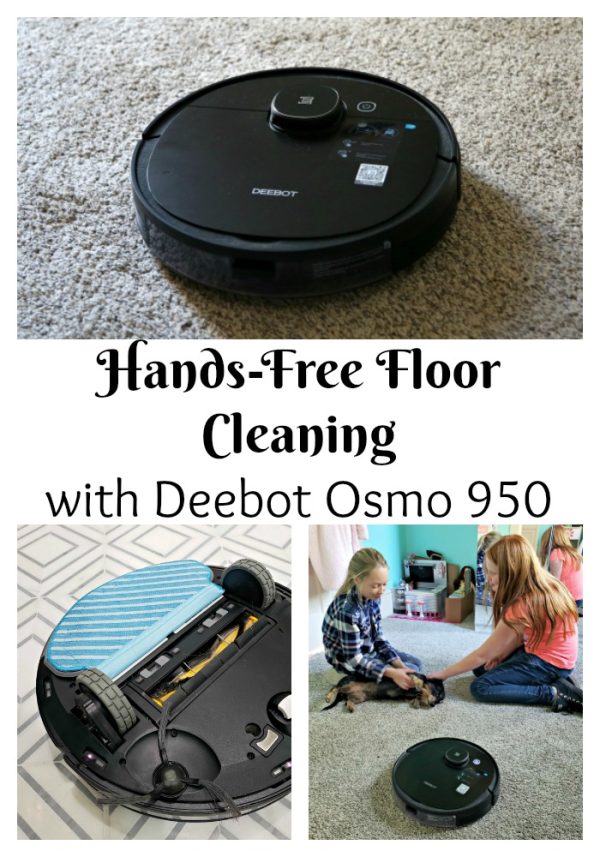 All of my smart home dreams have come true with a new love – Vicki, the Deebot Ozmo 950. I'm all about hands-free floor cleaning because now it gets done on a more regular basis! I love when Vicki gets to work and love that she knows how to find her way back to her charging station when she's tired or has completed a job well done.