This post is sponsored by Best Buy and all opinions expressed are my own. Learn how you can Combine Your Favorite Kitchen Appliances with Breville Combi 3-in-1 Microwave.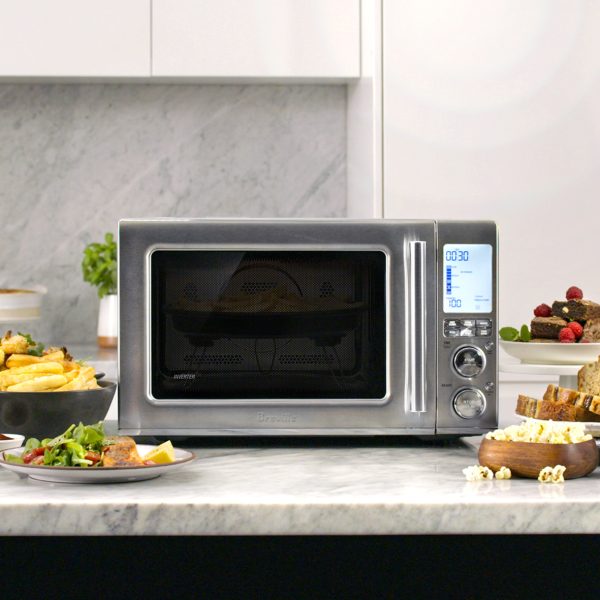 With our recent power outages here in Northern California has come some unfortunate complications. When the most recent outage resolved and our power returned, we experienced a power surge that fried several household items and appliances. While on the hunt for a new oven and toaster oven at Best Buy, we couldn't help but take notice of the Breville Combi 3-in-1 Microwave. I mean, this bad boy does everything so we were really tempted to get one!
If I didn't have an over-the-range microwave, I think this fancy microwave would have found its way to my cart. We did end up getting the Breville Toaster Oven that also air fries and dehydrates though, and I couldn't be more in love. For those looking to up your microwave game, let me just highlight some of the awesomeness that the Breville Combi 3-in-1 Microwave boasts. It does everything my new Breville toaster oven does with the addition of microwaving!!!
Combine Your Favorite Kitchen Appliances with Breville Combi 3-in-1 Microwave
For starters, this hot appliance doesn't just warm up and heat your food. Now your microwave can double as an air fryer and a convection oven. Fry up french fries, brussels sprouts and so many other fun treats without all the oil and grease! Then turn right around and bake some brownies or roast a chicken!
The "Fast Combi" function helps cook dishes faster, all while achieving desired temperatures for perfect results. I'm all about faster cooking and equally delicious food! No need to be concerned over uneven bakes or having to give things several stirs to fully heat a dish through. The Power Smoothing™ Inverter gives a precise & even heat distribution so your dishes will be perfect every time.
Because we all have different home setups and sometimes different awake hours between family members or roommates, you'll love the next features. The Combi respects quiet hours and has a 80% quieter soft close door and is even 50% quieter while in operation. Then there's the mute button, which quiets all the buttons so as to not disturb anyone. Isn't Breville so considerate? Worry about children mishandling your favorite new appliance? Hit the child lock button!
We just set up our fancy new Breville and are in love already and I think you'll feel just the same about this Breville Combi 3-in-1 Microwave. So many skills in one machine! I absolutely love that you can get rid of some of the extra appliances and have everything all-in-one!