To help you tackle your laundry are some laundry room organization ideas. Chores don't have to be so bad if you have good organization to give you a leg up. This post is sponsored by StickerYou, but all opinions and ideas are my own.
Name a dreaded household chore – we all have them! Laundry tends to be high on my list and likely up there for many of us. Perhaps this is from having a good sized family and the laundry is never all done. Not only do I dislike doing laundry, but until recently I really dreaded going into my laundry room space. It's plenty big, but it was so disorganized and the catch-all for all the stuff/junk no one knew where to put. On top of the clutter and excess, the laundry room is where we store all the household stuff we need to use on a regular basis. Because of the disorganization, nobody could find what they were looking for! Sound familiar? Feeling organizational peace in a much used space enhances the joy of tackling a regular and necessary chore. With these laundry room organization ideas hopefully you too can find peace (and perhaps desire) for a once dreaded chore.
Purge and Clean Out
My daughter and I took it upon ourselves to completely empty out the laundry room, except for moving two of big appliances. We had a spare freezer in this space, which we get into often but it really crowded the room. We moved it to the back porch because there's plenty of room and it's not far away. After emptying the cabinet and clearing all of the many shelves, my kitchen and sitting room were a MESS! Sometimes it has to get worse before it can get better.
While we didn't thank each item for its use and purpose before discarding (thank you Marie Kondo), we did evaluate what I actually use and need. We tossed old unused junk and made a pile of items to sale or donate. It's much easier to tackle a space with a clean slate.
Matching baskets
After organizing my pantry at the beginning of the year, I discovered my love for matching baskets. I cannot tell you how good it makes me feel to walk into a space and see everything neatly lined up and matching. It was a challenge to find enough matching baskets for the many shelves I have in my laundry room, but I did it! I got these simple and affordable ($6 each) gray baskets from Target.
Label EVERYTHING!
To make things easier to find, organize your items by type and then label it! StickerYou has a sticker and label type for every need. You can go with one of their pre-made patterns, prints or text, or you can design your own labels. I designed mine to look like a chalkboard and created the organization titles I thought I'd use in my laundry room. If you're not completely sure what categories you'll need, leave some blank so you can fill in as needed. I left a handful of stickers blank, then purchased a white gel pen to write over the black label, for my blank stickers. I just knew I'd come up with more ideas when doing the organizing.
Your space may not be as big as mine and thus won't have as many categories, but here are a few labeling/organizing ideas for your StickerYou labels:
Detergent
Laundry (for fabric softeners, bleach pens, stain remover, etc.)
Floor (with all my floor cleaning supplies)
Cleaners
Air fresheners
Dusters
Rags
Pet
Sewing Kit
Paper Goods
One of the best things about the labels I got from StickerYou is that they're peel and stick and can be removed and reused!
Utilize Wall Space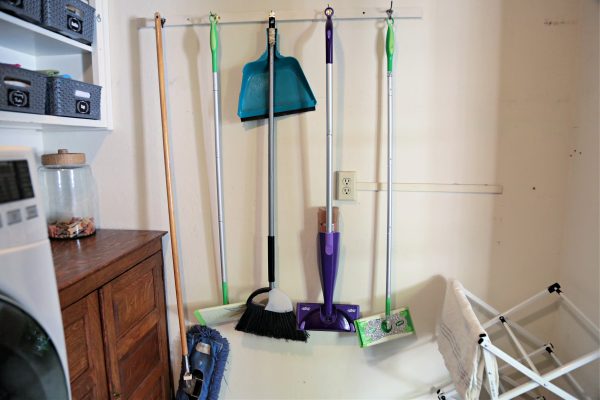 Pick things up off the ground or out of the corner and put them up on the wall. I'm talking brooms, mops and vacuums. My laundry room already came with a lot of hanging bars and hooks so I didn't change this. However, now that I have more room in my laundry room, I can easily access whatever is hanging on the wall. What good is getting it up and out of the way if you can't get to it when you need it, right? Hang towel hooks for backpacks, grocery bags, umbrellas, or whatever you like to store in there. Then find the right hooks to accommodate your floor cleaning items.
Drying Area
For your delicate items, get a drying rack. If space permits, you can leave one up permanently or you can get a collapsible rack. Just tuck it alongside your appliances when not in use. Now that my freezer is gone, my drying rack can live in the corner and it's no longer blocking my brooms and mops. Having a designated drying bar or rack is great and will save the back of your kitchen chairs from getting damaged (if that's where you used to dry your clothes, like me).
Folding Station
If you have the space, I highly recommend setting up a folding station. To keep your laundry chaos from taking over the house, it's so nice to fold it right there in the laundry room. Then place the neatly folded laundry in a basket and transport it to its home (dresser, closet, kids' bedroom, bathroom). I have this cabinet that fits perfectly next to my washer and dryer and now that its top is cleared of debris and clutter, I have room to fold laundry in there! Laundry room organization can really help make doing laundry more enjoyable!
No matter how big or small your laundry room is, the ultimate key is to organize and label. Put your items in groupings that make sense and then slap a StickerYou label on it so you can find it when you need it! Happy organizing!