Pumpkin Better Than Sex Cake
WELCOME
Okay, I admit it – I went a little crazy with the pumpkin baking today. Three pumpkin goodies in one afternoon isn't excessive though right? Before you continue reading, I need you to solemnly swear that you will not head over to my Nutrisystem posts right now and comment with nasty things like "No wonder you can't lose weight – you keep BAKING!" 😉 In return, I solemnly swear to not eat the entire pan of cake right now….I will wait until morning to finish it. Sound good?
In case you weren't over on facebook tonight (the night this recipe was posted), I posted a photo of each of today's treats, and this one got the most votes. As promised, I am not delaying in getting the recipe posted for all.
You may recall the Better Than ___Cake recipe that I posted a while back. I mentioned that it was the cake that I requested most for my birthday. That may change now that I have discovered the Pumpkin version of Better Than Sex Cake. It could totally work since my birthday is in November too!
Oh my goodness this was some scrumptious cake! Just as with the chocolate version, I am anticipating this cake to be even better the next day. I won't know until tomorrow, but I'll let you know.
This Pumpkin Better Than Sex Cake is among my 5 most popular recipes.
Yield: 12-15
Pumpkin Better Than Sex Cake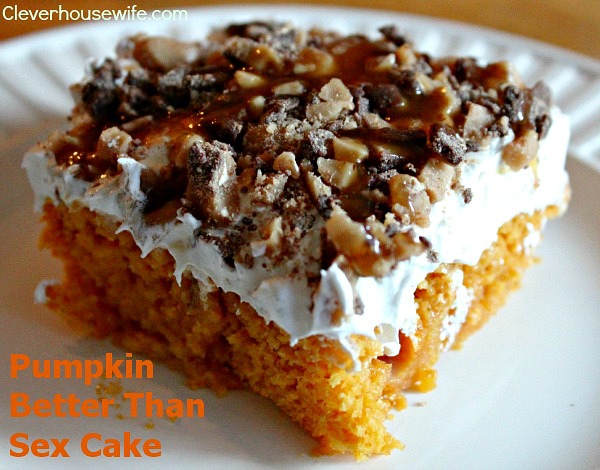 Total Time
4 hours
35 minutes
Ingredients
1 box yellow cake mix
1 - 15 oz. can pumpkin puree (not pumpkin pie mix)
1 tsp pumpkin pie spice
1 - 14 oz. can sweetened condensed milk
8 oz. cool whip
1/2 bag Heath Bits
jar of caramel sauce
Instructions
Instructions
In a large bowl, mix together the cake mix, spice and pumpkin puree until a smooth batter forms.
Pour batter into a greased 9x13 baking dish, and bake at 350º, according to the directions on the cake mix box (approx 23-28 mins).
Remove cake from oven and let cool for about 10 minutes after baking.
Using the end of a wooden spoon to poke holes all over the top of the cake.
Pour the sweetened condensed milk over the cake. This should fill in the holes and soak into the cake.
Refrigerate for 30 minutes.
Remove cake from refrigerator and spread cool whip over top of cake. Sprinkle on the heath bits, and drizzle caramel over top. (I didn't think the cake needed a lot of caramel at this point so I only used about 1/4 of the jar. I thinned it out first by heating it in the microwave.)
Refrigerate for 3-4 hours, or overnight (best).
I spotted this recipe from Something Swanky.
Related articles