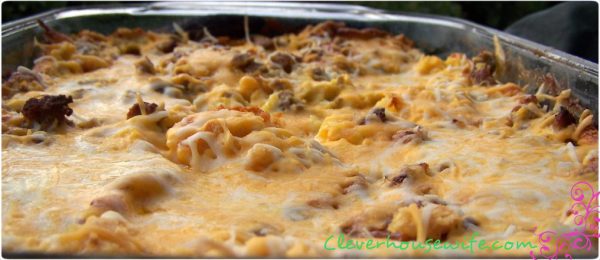 Sausage, Egg and Biscuit Casserole
I made a very yummy looking and sounding breakfast casserole, that I was so excited to try. Unfortunately, I can't tell you how tasty this Sausage, Egg and Biscuit Casserole really is, because I didn't get to eat it. I made this dish for a church function, and on it's way out to the pavilion, for the festivities, hubby dropped the dish in the parking lot. Not only did the casserole not survive, but neither did my 9×13 glass dish. 🙁 I was so sad for many reasons. I had stayed up late the night before, making this dish, and I was so excited to try it! And, hubby broke my only 9×13 glass dish. For Mother's Day, I got myself a new one with a lid, which makes me happy.
A little advice about this recipe before I share the details – I recommend keeping a super close eye on the oven, when you bake the Sausage, Egg and Biscuit Casserole. I got this recipe from Jenny Mac's Lip Smack, and I only cooked mine for as long as the recipe suggested, but the tops of the biscuits were browned. I didn't want them to be burnt tasting at all, so I carefully scraped them off, sprinkled with cheese again, and voila. It looked beautiful! You'll want to be careful not to have your tops burned as well, but if they do – easy solution! You can make this recipe with bacon instead, and can also prepare the night before, or morning of.

Sausage, Egg and Biscuit Casserole
Prep time:
Cook time:
Total time:
Ingredients
1 lb. sausage or bacon
7 eggs
1 cup milk
1 cup heavy cream
1 tsp pepper
½ tsp salt
8 biscuits (canned, leftover homemade ones that are a bit stale, frozen, bakery, what you like best)
1-1/2 cups shredded cheese
Instructions
Preheat oven to 375°.
Spray a 7x11 or 9x13 baking dish with nonstick spray.
Brown sausage (or bacon) until cooked through, and browned. Transfer to paper towel to absorb excess grease.
In a bowl whisk eggs, milk, cream, salt and pepper.
Split biscuits in half and layer bottoms in greased dish. Sprinkle sausage (or bacon) over biscuits and top with ¾ cup of cheese.
Cover with biscuits tops and pour egg mixture over top.
If you want to eat right away:
Bake for 30 minutes or until eggs are set, and no longer jiggly. Cover with cheese and cook for another 10 minutes.
Let casserole stand for 10 minutes.
If you are making ahead:
Cover with foil, and refrigerate.
Remove casserole from the refrigerator and bake in preheated oven for 60 minutes, until eggs are set. Uncover and top with ¾ cup of cheese, and bake until melted.
*KEEP A CLOSE EYE ON DISH WHEN BAKING
Write text here…
Related articles