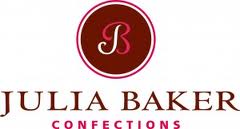 Chocolates From Julia Baker Confections
The statement, "There's nothing better than a good friend, except a good friend with chocolate", couldn't be more true for me lately. It is amazing how much a good dose of chocolate can do for the soul, and one's mood. While there is something to be said for all chocolate, there isn't anything quite like a box of exquisite chocolates. Julia Baker Confections has been a featured guest on the Oprah Winfrey Network's The Gayle King Show, and has been featured in the April issue of Oprah's O Magazine!

I recently had the privilege to try some of Julia Baker Confections' chocolates, and I believe I got a little taste of heaven. The chocolates were so creamy, and simply melted in my mouth. Expensive chocolates aren't something I indulge in often, because I have a difficult time justifying the expense, but I firmly believe that everyone should do it every once in a while. I will sometimes ask for a box of fancy chocolates for my birthday, because it's the perfect time to indulge. There really is a difference in chocolates – it's amazing!
Aside from the deliciousness of the Julia Baker chocolates, they are so pretty! I love the colorful designs. I received the 16-piece Signature Oval Box, and there was not a single chocolate that I didn't like. The little round chocolates with the toffee-like pieces on top, surprised me with a very light and delicious caramel! Probably my favorite – if I had to pick! I wish I could say that I savored the boxed, and let it last a long time, but this just isn't true. I didn't scarf them down by any means, but they were so tasty that I kept coming back throughout the day – one chocolate at a time!
I have some great news! 3 Clever Housewife readers will be the lucky recipients of some Julia Baker Confections Chocolates! Here are the prizes:
1 16-piece signature oval box(SRP $48)

Assortment contains caramel, hazelnut and coconut truffles and the following hand-cut chocolates:

Dark Chocolate Ganache
Raspberry
Irish Crème
Passion Fruit
Milk Chocolate Ganache

(2) 6-piece faux designer purses(SRP $16)

Assortment contains the following hand-cut chocolates:

Dark Chocolate Ganache
Milk Chocolate Ganache
Dark Passion Fruit
This giveaway will end at 12:01am ET on 12/3. Winners will be announced in a blog post, as well as contacted via email. Entries will be verified before a winner is chosen. To enter, fill out the rafflecopter below:
a Rafflecopter giveaway

I received a box of chocolates to facilitate my review. All opinions expressed are my own. 
Related articles