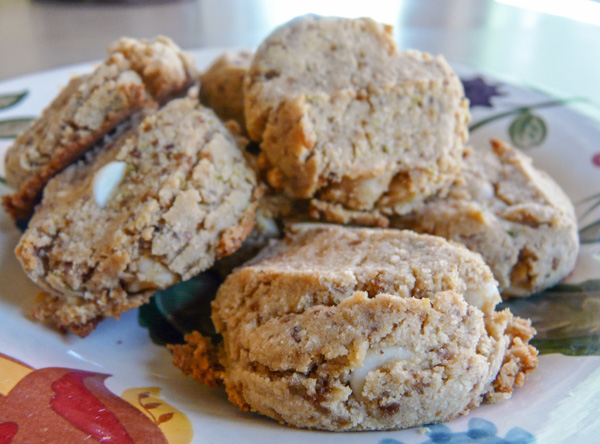 Tropical Cookies with Macadamia Nuts & Vanilla Chips – Gluten Free & Vegan

Just yesterday I shared with you some amazing products by Shiloh Farms. In addition to the yummy Tropical Quinoa Salad, I whipped up a batch of Gluten Free & Vegan Cookies: Tropical Cookies with Macadamia Nuts & Vanilla Chips. For this recipe, I used the Shiloh Farms flax seeds, coconut sugar, and coconut flour. This was my first time cooking with coconut sugar and flour, and I was very pleased with the results. These products just taste so wholesome!
When I stay away from gluten, I start missing baked goods; especially cookies.  One of the drawbacks to eating store bought gluten-free cookies is that they are often lower in fiber than their counterparts.  That is why I chose to substitute eggs for flaxseeds soaked in water, for my Tropical Cookies with Macadamia Nuts & Vanilla Chips.  Flaxseeds are also rich in alpha-linolenic acid (ALA), an essential fatty acid that is beneficial for treating a variety of health conditions.
My 5 year old tested the cookies when she got home from Kindergarten and said she liked them too! These cookies are not as sweet as some other cookies, but the honey/agave nectar help.

Tropical Cookies with Macadamia Nuts &Vanilla Chips – Gluten Free & Vegan
Ingredients
2 tablespoons flax seeds
½ cup water
1 cup coconut flour
¾ cup rice flour
½ teaspoon baking soda
½ teaspoon baking powder
¼ teaspoon salt
⅔ cup coconut sugar
⅔ cup softened coconut oil
2 tablespoon grated lime peel
¼ cup fresh lime juice
1 Tbs honey or agave nectar
½ cup vanilla chips
½ cup macadamia nuts, chopped
Instructions
Preheat oven to 375°
Process flax seeds in a blender to a fine meal, add liquid and stir until thick and gelatinous (equivalent to 2 eggs).
Mix coconut flour, rice flour, baking soda, baking powder and salt together.
In a large mixing bowl beat the sugar, coconut oil, flax seed mixture, lime peel, lime juice, and honey. Mix in flour mixture until well blended.
Stir in vanilla chips and macadamia nuts.
Shape dough into small balls with your hands and place on an ungreased cookie sheet and lightly press the balls with fingers. They don't spread too much.
Bake 10-12 minutes or until set. Immediately remove from cookie sheet and cool on a wire rack.