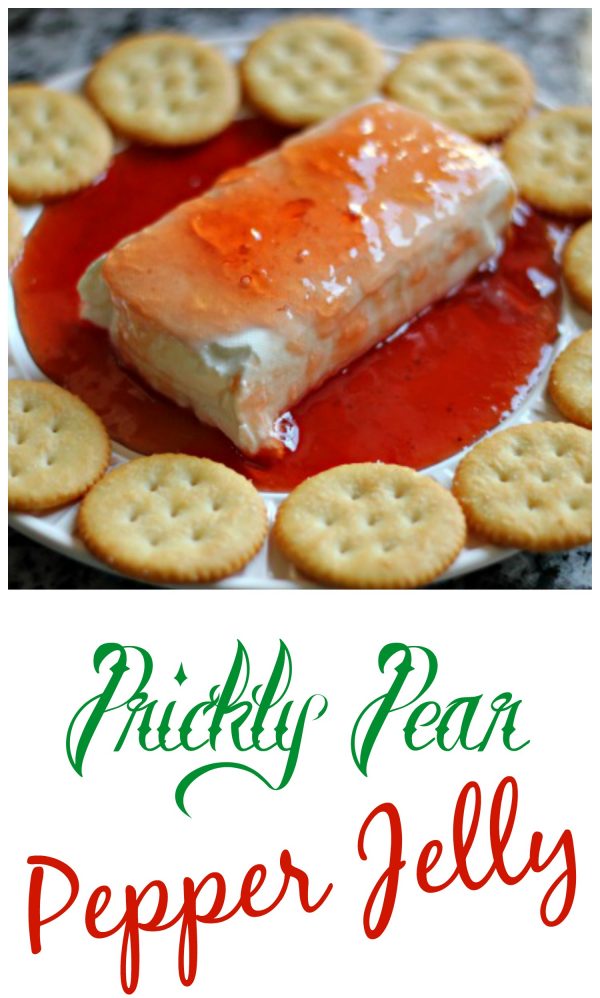 You know how some foods remind you of certain occasions, celebrations, holidays or gatherings? Turkey and pie screams Thanksgiving to most. Sugar cookies say Christmas, and ham and deviled eggs evoke thoughts of Easter. For my crazy fam, it's not Christmas Eve without our traditional Chinese takeout, Ritz Crackers, cream cheese and pepper jelly. In fact, it's such a favorite that nobody seems to get their fill of it on Christmas Eve, so it's carried over to New Year's.
Throughout the year, we are on the search for the perfect pepper jelly to celebrate our holiday traditions. This year, we discovered our very own Prickly Pear Pepper Jelly. You see, at the end of my parents' street, along the highway, lie some prickly pear cactus plants with fruit on them. Every time my husband would drive by, he'd tell himself one day he'd get out there and pick some prickly pears and see what could be done with them. Lo and behold, my mom had already had the same thought, and had put them to the test. She had them juiced and turned into jam a couple of years ago, but what hadn't been tried was pepper jelly. When my mom learned of hubby's desire to taste prickly pear jam, she brought out a jar of juice and Prickly Pear Pepper Jelly was born.
To make your own prickly pear pepper jelly, here are the necessities that you may not already have on hand (with a link to purchase):
Now for your recipe! Click over to the next page!