This post was sponsored by S&W Beans as part of an Influencer Activation for Influence Central and all opinions expressed in my post are my own.
It's so interesting to me how my tastes and interests have changed over the years. While I still love fancy and flavorful cuisine, there's just something about simple comfort food. I've also been trying to eat more clean and to cut certain high inflammatory foods out of my diet. With these things in mind, I've turned to an easy organic and vegan meal most days of the week. I love how easy Black Beans and Lime Rice is on my tummy, and with the help of S&W Organic Beans, it comes together in a breeze.
Canned beans are a staple in my house, and I keep my pantry stocked with them. It's pretty cool that S&W Beans can cater to your dietary needs with organic, low sodium and core options. I really feel like you get the same great taste no matter what option you go with, but these days I enjoy the benefits of the S&W Organic Black Beans.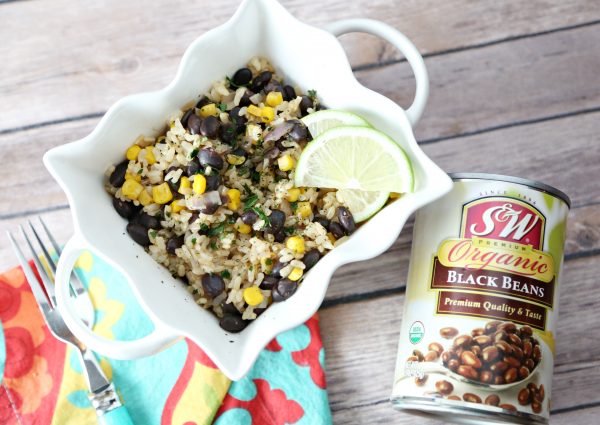 I use beans in all kinds of recipes, and for every meal of the day. S&W Beans has been around for over 120 years and they're still providing the same great quality. I am terrible about eating a lot of meat for my protein, so I love that I can turn to beans for some great protein that's typically easier for me to digest. Plus, they're so easy to cook with and take no time at all to add them to any dish!
The first time I made my easy Black Beans and Lime Rice, Keith and I looked at each other and we both asked why I hadn't make this before! This is now a regular dish in my house, and it makes enough leftovers to have for lunch the next day – my favorite! You can totally change up this dish to cater to different likes and dislikes, and needs in the family.
If the kids feel like they need (or want) some carbohydrates with this meal, I give them a tortilla or crunchy taco shell to fill with the beans and rice. I will also turn this into a full-bodied bowl with salsa, cheese and guacamole. So many yummy options and you can go as simple as you'd like. Save on your next purchase of S&W beans with this printable coupon for $1 off 2 cans of beans!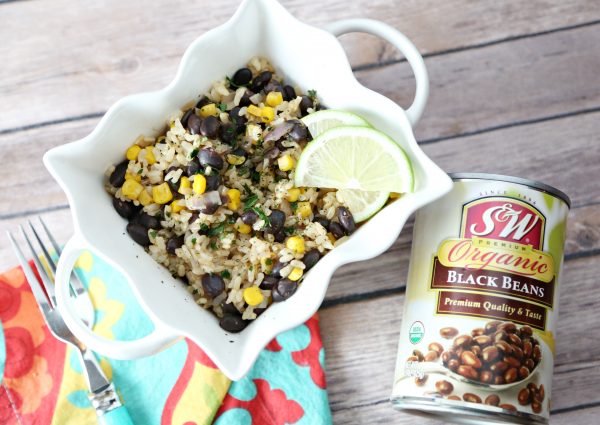 Black Beans and Lime Rice
2018-03-13 12:08:23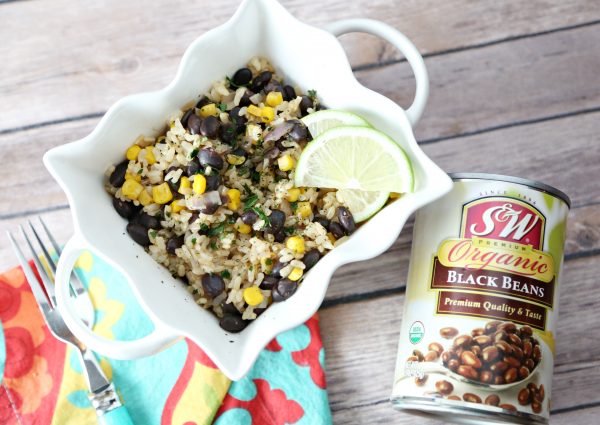 Serves 8
Lime Rice
2 cups uncooked organic brown rice
2 cups water
2 Tbs lime juice
1-2 Tbs cilantro
Black Beans
2 cans S&W Organic Black Beans
3/4 cup chopped red onion
2 tsp olive oil
2 cups vegetable broth
1/2 cup water
1 (15 oz) can organic corn
1 tsp garlic salt
2 tsp cumin
1 tsp chili powder
1/2 tsp paprika
1/2 tsp red pepper
Instructions
Rinse rice and place in the bottom of your pressure cooker. Add water and cook on manual for 15 minutes, with natural release.
To cooked rice, add lime juice and cilantro.
While rice is cooking, prepare beans.
In a medium saucepan, saute onion in oil over medium-high heat. Cook until onions are softened and translucent, about 5-7 minutes. Add all seasonings and cook another minute or two.
To onions, add beans, broth, water and corn. Cover and simmer for 15 minutes.
When rice is finished, pour into a large bowl. Add bean mixture to the rice, leaving some of the liquid out, so your rice doesn't end up runny. Serve and enjoy!
Clever Housewife https://cleverhousewife.com/