Do you ever take your dog places, and need to keep them tied to something nearby, so they won't run away? Then do you feel guilty about having to stake down your dog's leash, because they can't run around? I have a solution for you! Perhaps you have seen something like this before, but in case you haven't, I want to show you how to make a "Portable Dog Jog".
Just last weekend, my sister's family came up to visit for Mother's Day, and birthday festivities. They brought their 7 month old puppy. Because kids were in the pool, and playing outside, they wanted to keep the puppy confined to the yard, but wanted to give her plenty of freedom to run around. I believe my brother-in-law came up with the method of the dog jog, after taking dogs camping, and trying to figure out how to give them room to play. Here is what you need to do:
Get a long rope (whatever length you need or desire). Stake down one side of the rope. Then take the loop of your dog's leash, and slide it over the end of the rope. After you have done this, stake down the other end of the rope. Voila, you have a long stretch of rope, that your dog's leash can move across, for lots of room to play and run.
Here is the dog jog, put to good use: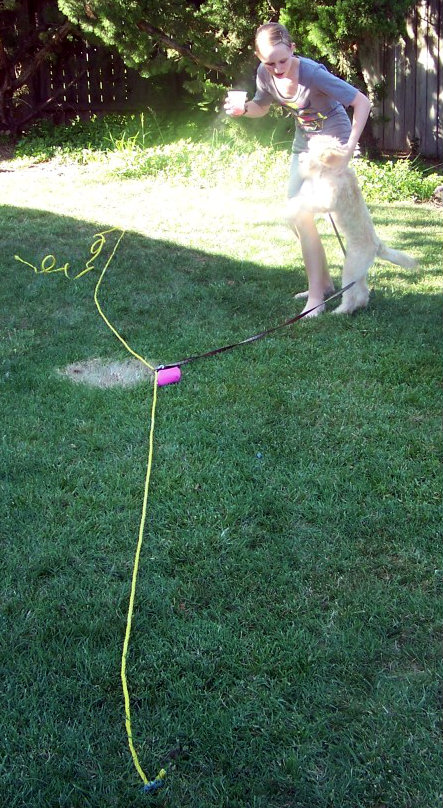 Traveling with your dog for the first time? Here are some tips on how to take your dog on a luxury holiday.
Related articles