Vanilla Pear Muffins
 

When it comes to breakfast, who doesn't love an excellent muffin? The problem is that there are so many muffins that do not lend themselves to excellency. I decided to venture out and find myself a muffin recipe to write home about. I wanted some unique and different, and I really wanted to use up the beautiful pears that had been sitting on my counter for over a week. These pears were fresh off the tree, and desired the perfect recipe. I came across this Vanilla Pear Muffins recipe from Pastry Affair.
The combination of vanilla, nutmeg and pear, is superb. This is a very moist muffin, using applesauce, with much flavor. The sweet and tender pear that sits atop the muffin, is the perfect addition of flavor and texture. The only dilemma is whether or not to call this breakfast or dessert!

Prep time:
Cook time:
Total time:
Ingredients
1½ cups all-purpose flour
1½ tsp baking powder
¼ tsp nutmeg
Pinch of salt
2 large eggs
1½ Tbs vanilla extract
1 Tbs lemon (or orange) zest - I had a lime on hand and used that, which worked well
1 cup packed light brown sugar
4 Tbs unsalted butter, melted
¼ cup vegetable oil
1 cup unsweetened applesauce
2 large ripe pears, thinly sliced
Granulated sugar, for sprinkling
Instructions
Preheat oven to 400°.
In a large mixing bowl, whisk together the flour, baking powder, nutmeg, and salt. Set aside.
In another bowl, mix together the eggs, vanilla, zest, brown sugar, butter, oil, and applesauce until well combined.
Fold the wet ingredients into the dry and stir until just combined; do not overmix.
Fill 12 paper, or greased, muffin cups with the batter - distributed evenly.
Stick 3 thin slices of pear directly into top of the muffin batter. Sprinkle granulated sugar onto the muffins, and pears, if desired.
Bake for 20 minutes, or until the muffin tops are lightly browned and bounce back to the touch. Serve hot or at room temperature.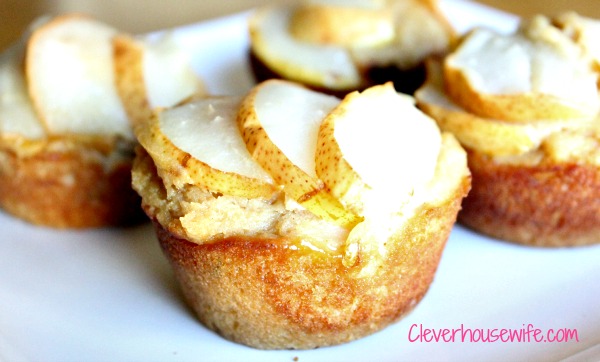 Related articles