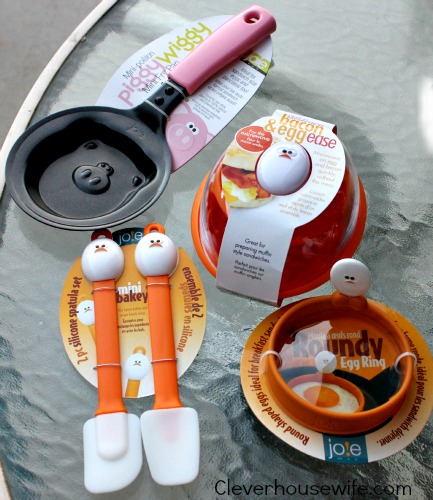 Every chef, baker, and lover of food, needs to have the perfect Kitchen Gadgets. I have always loved cute and unique gadgets for the kitchen. I often give them as bridal shower or wedding gifts. Rarely will I buy myself any fun gadgets, so it is fun for me to receive them as gifts. I recently discovered the The Joie Shop, and fell in love with just about everything in their inventory. I thoroughly browsed the entire website and came up with a wish list. Up there on the list are/were these items:
Joie Spin & Serve
Bacon & Egg Ease
Mini Bakey Silicone Spatulas 2-pc –
Roundy Egg Ring
Piggy Wiggy Mini Fry Pan
Hot Dog Fresh Pod
Onion Fresh Pod
Tomato Fresh Pod
Joie Garlic Fresh Pod
Joie Garlic Twist
Christmas Coasters
I was lucky enough to receive all but the Spin & Serve, to review. I even received some Jo!e Jingle Top Rocker Charms. I don't drink wine, but I think the kids would love seeing these on their dinner plates or egg nog glasses.

Can I just say that I love these products, and think they are so fun?! Each and every piece are very affordable and would make for a great gift basket, or even stocking stuffers. The different pods are for storing halves of produce that don't get used. There are many recipes that call for only a half of an onion. Rather than stick the onion in a baggy (which costs), just to let it get moldy and soggy when it gets beat up in the produce drawer, you stick the unused half in the onion pod. You can do this with peppers, tomatoes, onions, garlic, bacon (+ more) and even hot dogs! Using the pods preserves the cut produce even longer, so you can use them before they go bad. I love the hot dog pod because we rarely use an entire package all at once, and I hate when juices leak in the fridge. The hot dog pod keeps each hot dog separate, and safe.


Last year for Christmas, Santa brought me a garlic press, which broke the very first time I used it. Ever since, I have just chopped my garlic, which can be a pain. I love the Garlic Twist because it does the work for me, and it's more fun to use than just chopping.
If you are rushed in the morning or just need a single serving of pancakes or want to make a bacon and egg sandwich, the Piggy Wiggy Mini Frying Pan and Bacon & Egg Ease are just the thing for you! The Piggy Wiggy has a cute little pig and I can't wait to try a pancake in it, to see if the pig shows up on the pancakes! My husband loves the Bacon & Egg Ease because you can cook a single serving of bacon and egg at the same time, using the microwave. Serve them with an english muffin, and there's breakfast!
The mini silicone spatulas and the roundy egg ring are both things that my kids love to use. I let them place the egg ring down while I crack the egg. It helps them feel like they are helping with breakfast. I let my kids use the mini silicone spatulas because they are just their size. When I finish making a cake batter, they break them out and scrape out the bowl. Chances are, they are eating the batter, but that's part of baking!


Just for the holidays, the Christmas Coasters and Jingle Charms are so fun for dressing up your holiday beverages. The coasters spell out NOEL, and each have a Christmas character that sticks up from the bottom of the coaster. The colors are shiny and beautiful. Overall, I am thrilled with everything I have received from the The Joie Shop! You've got to check it out and snag some gifts and stocking stuffers for the bakers and chefs in your family! Plus, get a free mini grater with every $40 purchase!
One Clever Housewife reader, in the US or Canada, will win the following items from the Joie Shop!
Bacon & Egg Ease – $6.99
Mini Bakey Silicone Spatulas 2-pc – $3.99
Roundy Egg Ring – $2.99
Piggy Wiggy Mini Fry Pan – $7.99
Hot Dog Fresh Pod – $3.99
This giveaway will end at 12:00am PT on 12/9. To enter, fill out the rafflecopter below. Entries will be verified.
a Rafflecopter giveaway

I received the mentioned products to facilitate my review. All opinions expressed are my own.
Related articles